Disclaimer: Copyright infringement not intended.
Context: The first ABDM Microsite under the 100 Microsites Project by the National Health Authority was launched in Aizawl, Mizoram.
About ABDM Microsites
The ABDM Microsites are defined geographical regions where focused outreach efforts would be made to onboard small and medium-scale private healthcare providers.
Under this, all healthcare facilities including the private clinics, small hospitals and labs in the region shall be made ABDM-enabled and will offer digital health services to the patients.

Aim:

Accelerate adoption of Ayushman Bharat Digital Mission (ABDM) across the country.

No of Microsites projects announced:

100
Significance of the project
It is a very important initiative for reaching out to the bulk of small and medium-scale healthcare providers from the private sector.
Structure of microsites
Implementation:

by State Mission Directors of ABDM.

The financial resources and overall guidance:

Interacting agency:

An interfacing agency will have an on-ground team to reach out to the healthcare providers in the area.
This team will spread awareness about the benefits of ABDM.
It will help the service providers to join the core registries under ABDM and promote the use of ABDM to enable digital solutions for regular clinical documentation. Patients will be able to link the health records generated at these facilities with their Ayushman Bharat Health Accounts (ABHAs).
Patients will also be able to view and share these records using any ABDM-enabled Personal Health Record (PHR) application on their phones.
Development of microsites in India
NHA had previously overseen microsite pilots in Mumbai, Ahmedabad and Surat. The learnings and experiences from these pilots have been incorporated into the overall structure of 100 microsite projects under ABDM.
Mizoram became the first state in India to operationalize an ABDM Microsite in its capital city Aizawl.
Besides Mizoram, other states including Andhra Pradesh, Madhya Pradesh, Uttar Pradesh, Maharashtra and Chhattisgarh have also made significant progress regarding the implementation of ABDM Microsites.
Ayushman Bharat Digital Mission (ABDM)
The Ayushman Bharat Digital Mission (ABDM) aims to develop the backbone necessary to support the integrated digital health infrastructure of the country.

It will bridge the existing gap among different stakeholders of the Healthcare ecosystem through digital highways.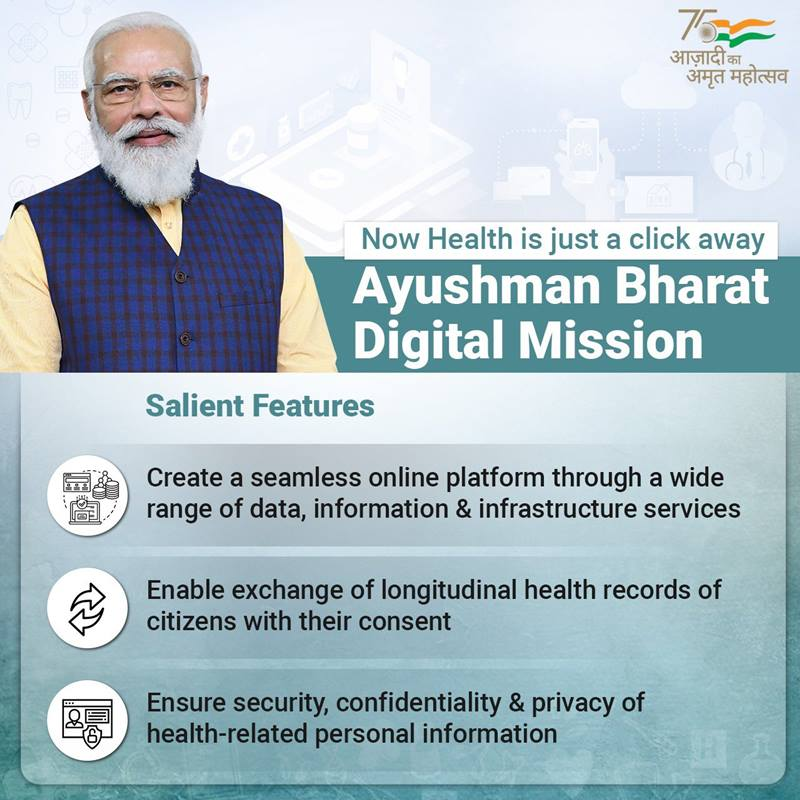 Ayushman Bharat Digital Mission -Components
ABHA Number
The ABHA(Ayushman Bharat Health Account) Number will be used to uniquely identify persons, authenticate them,

and thread their health records (only with the informed consent of the patient) across multiple systems and stakeholders.
Healthcare Professionals Registry (HPR)
It is a comprehensive repository of all healthcare professionals involved in the delivery of healthcare services across both modern and traditional systems of medicine.

Enrolling in the Healthcare Professionals Registry will enable them to get connected to India's digital health ecosystem.
ABHA Mobile App (PHR)
A PHR is an electronic record of health-related information on an individual that conforms to nationally recognized interoperability standards and that can be drawn from multiple sources while being managed, shared, and controlled by the individual.

The most salient feature of the PHR, and the one that distinguishes it from the EMR and EHR, is that the information it contains is under the control of the individual.
Health Facility Registry (HFR)
It is a comprehensive repository of health facilities of the nation across different systems of medicine.

It includes both public and private health facilities including hospitals, clinics, diagnostic laboratories and imaging centres, pharmacies, etc.
Unified Health Interface (UHI)
UHI is envisioned as an open protocol for various digital health services.

UHI Network will be an open network of End User Applications (EUAs) and participating Health Service Provider (HSP) applications.

UHI will enable a wide variety of digital health services between patients and health service providers (HSPs).
National Health Authority (NHA)
It is an attached office of the Ministry of Health and Family Welfare with full functional autonomy.

The NHA is governed by a Governing Board chaired by the Union Minister for Health and Family Welfare.

It is headed by a Chief Executive Officer (CEO), an officer of the rank of Secretary to the Government of India, who manages its affairs.

The CEO is the Ex-Office Member Secretary of the Governing Board.
Functions
National Health Authority (NHA) is the apex body

responsible for implementing India's flagship public health insurance/assurance scheme called "Ayushman Bharat Pradhan Mantri Jan Arogya Yojana."

It has been entrusted with the role of designing strategy, building technological infrastructure and implementation of "Ayushman Bharat Digital Mission" to create a National Digital Health Ecosystem.

NHA is leading the implementation of the Ayushman Bharat Digital Mission (ABDM) in coordination with different ministries/departments of the Government of India, State Governments, and private sector/civil society organizations.
Study more at- https://www.iasgyan.in/daily-current-affairs/digital-health-incentives-scheme
PRACTICE QUESTION
Q. Ayushman Bharat Digital Mission creates a seamless online platform through the provision of a wide range of data, information and infrastructure services, duly leveraging open, interoperable, standards-based digital systems while ensuring the security, confidentiality and privacy of health-related personal information. In light of the above statement, discuss the role of ABDM in augmenting the digital health ecosystem in India. ( 250 words)