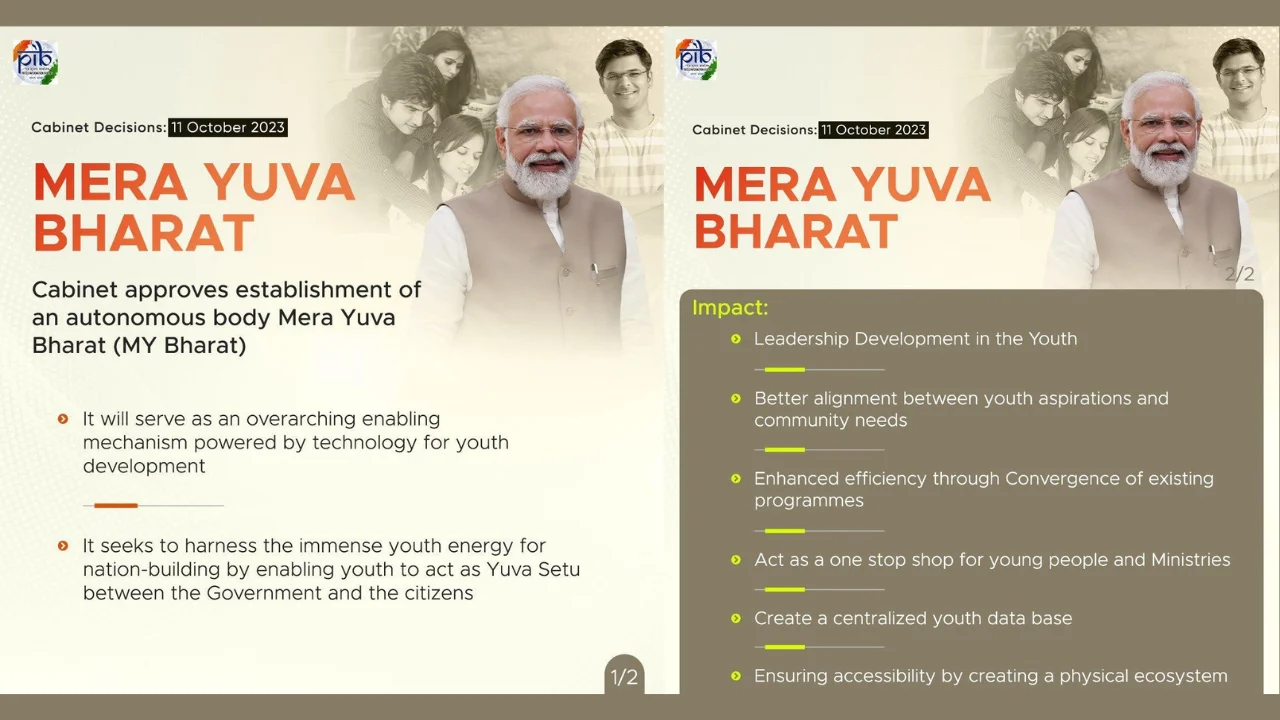 Copyright infringement not intended
Picture Courtesy: PIB
Context: Mera Yuva Bharat (MY Bharat) is an autonomous body established by the Union Cabinet, with the goal of fostering youth development and youth-led development in the country.
About Mera Yuva Bharat
Mera Yuva Bharat (MY Bharat) aims to provide equitable access to opportunities and resources for young people between the ages of 15-29 (and, in some cases, 10-19) to help them actualize their aspirations and contribute to the development of the nation.
It focuses on making the youth active drivers of development rather than passive recipients. It recognizes the potential of young people to lead and create positive change in their communities and the country as a whole.

Technology is a central component of MY Bharat, allowing young people to access resources and connects with opportunities. It facilitates data collection, communication, and program management.

The program is scheduled to be launched on National Unity Day, October 31, 2023

. National Unity Day, also known as Rashtriya Ekta Diwas, is celebrated to commemorate the birth anniversary of Sardar Vallabhbhai Patel, who played a significant role in the unification of India.
Objectives
Leadership Development in the Youth:

MY Bharat aims to improve the leadership skills of young people through experiential learning and programmatic skills. This means offering practical, hands-on experiences to develop leadership abilities.

Social Innovation:

The program seeks to invest more in youth to turn them into social innovators and leaders in their communities, which can drive positive change and development.

Alignment with Youth Aspirations

: It aims to align the government's focus with the aspirations of the youth. By understanding and addressing what young people desire, it can lead to more effective development initiatives.

Efficiency through Convergence

: MY Bharat will bring together and converge existing youth-related programs and services, making it more efficient for young people to access the resources and opportunities they need.

Centralized Youth Database

: The program will create a centralized youth database, which can be valuable for research, policymaking, and targeted program delivery.

Enhanced Communication

: It promotes improved two-way communication between the government, youth, and other stakeholders who engage with young people. This ensures that youth are aware of government initiatives and can provide feedback.

Phygital Ecosystem

: The program emphasizes the creation of a "phygital" ecosystem, combining physical and digital elements to engage with young individuals. This approach allows for greater accessibility and inclusivity by utilizing both traditional and digital tools.
Significance
India's youth is a critical demographic, and they are expected to play a pivotal role in the nation's future. MY Bharat aims to empower them to become active contributors to nation-building.
The program recognizes the need for a framework that unites youth from various backgrounds, including rural, urban, and rurban areas, to work together towards common goals.

In a rapidly changing world driven by technology, MY Bharat acknowledges the importance of using technology to engage with the youth effectively and efficiently.

By creating a phygital ecosystem, MY Bharat intends to make government programs and initiatives accessible

to young individuals, enhancing outreach and participation.
Conclusion
Mera Yuva Bharat (MY Bharat) is a forward-looking initiative that aims to empower India's youth by providing them with the resources, opportunities, and support they need to become leaders, innovators, and active participants in the development of the nation. It recognizes the changing dynamics of the youth population, the role of technology, and the need for a unified approach to engage youth from diverse backgrounds.
PRACTICE QUESTION
Q. What are the key objectives and expected impacts of the Mera Yuva Bharat (MY Bharat) initiative, and how does it aim to empower and engage India's youth in nation-building and development?