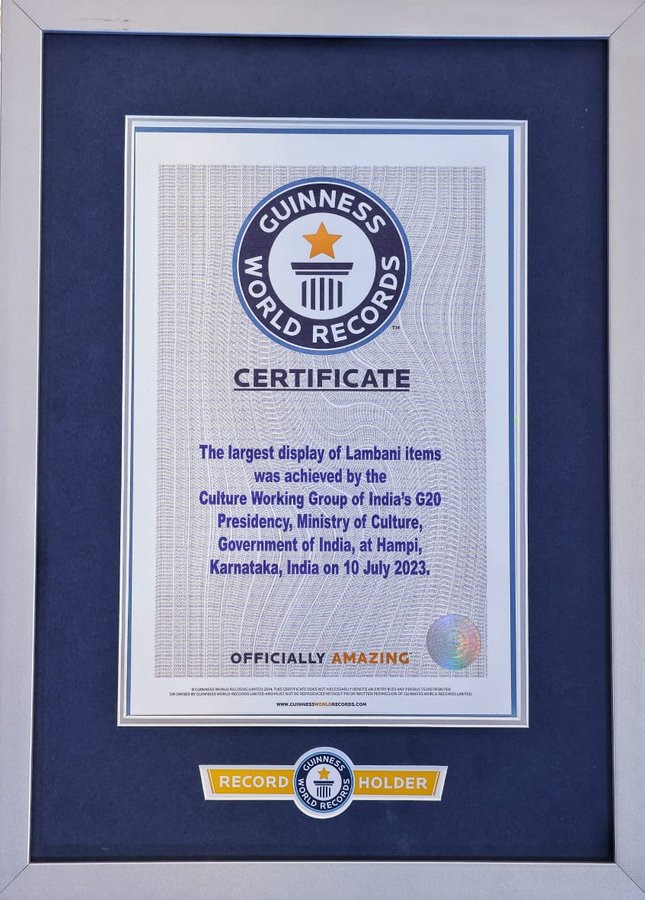 Disclaimer: Copyright infringement not intended.
Context
At the 3rd G20 Culture Working Group, In Hampi, Karnataka, Guinness World Record was set for the largest display of Lambani items.

A total of 1755 items were on display.
Other Details
It was an effort/initiative

to popularize Lambani art

, craft and culture.

This initiative is also expected

to encourage the participation of Nari Shakti

in such cultural activities.
Lambani Embroidery
Also known as

Banjara embroidery

, it is an

intricate embroidery art done on a piece of cloth

.

This art is mainly

practiced by the community of Lambanis

.

This art

comprises various processes

such as –

Firstly Basic tools and materials are collected

– for eg – Fabric, needles, thread, accessories etc.

Then there is

selection of patterns, types and shapes of stitches, color combinations

Accessories like

beads, mirror are added

in the later stage.

Finally it is

ironed

to give the cloth piece a desired look.

The final piece of cloth

can be used in clothing, curtain, pillow cover, bedcovers

, bags, etc.

Sandur Lambani Embroidery

is recognized with a

Geographical Indication tag in 2010

.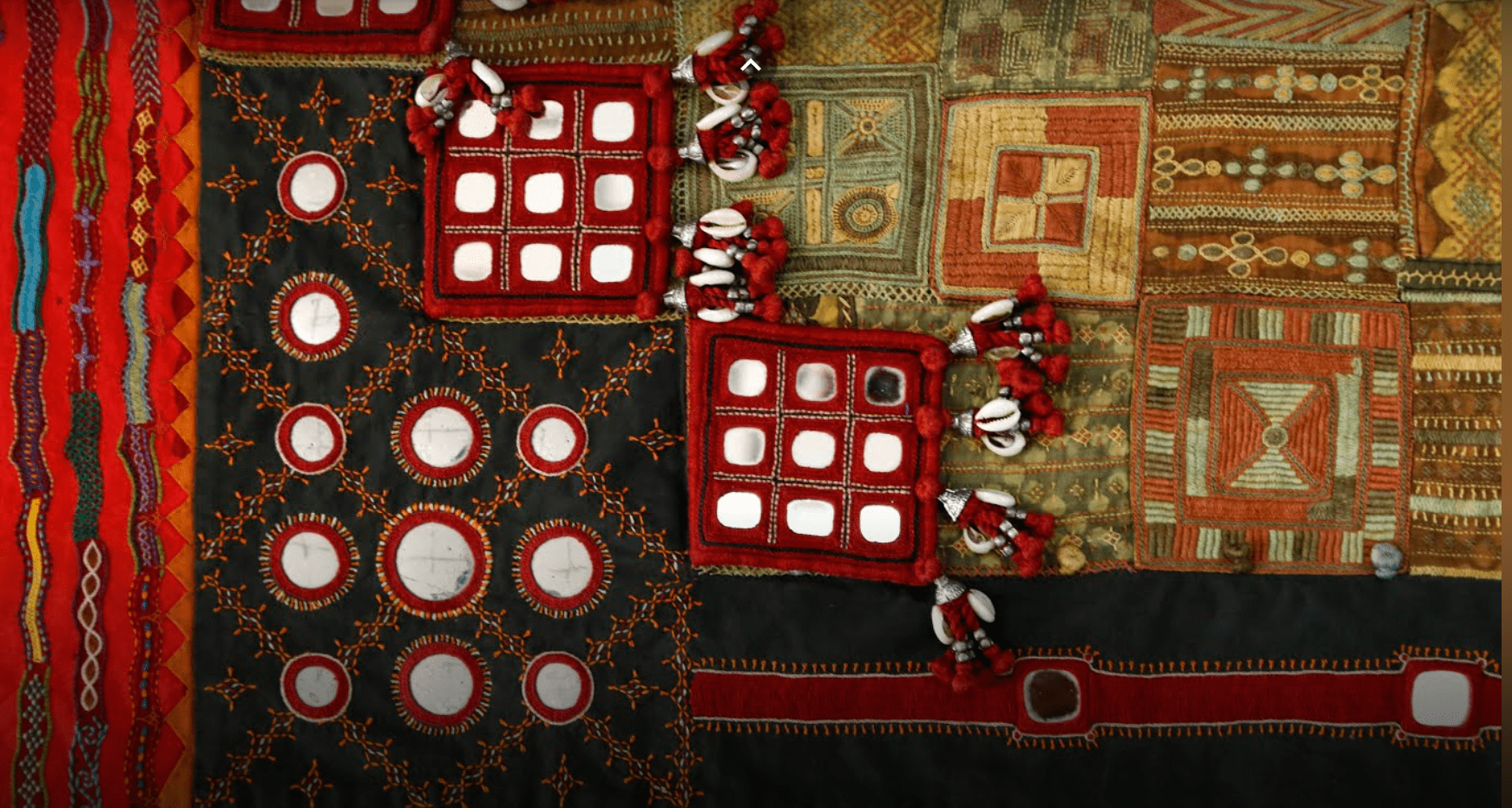 Disclaimer: Copyright infringement not intended.
Features
Done on a loosely woven piece of cloth.

It

includes

–

Around 14 types of

stitches

with various geometric shapes like - squares, circles, triangles, diagonal lines etc.

Parallel lines of

multi color

threads

.

Patchwork

.

Mirror work, Beads, Metal buttons

, Ghungroo etc.

Quilting

.

Applique

, an ornamental needlework.

Overlaying

Most commonly used colors are

red, yellow and blue
Who are Lambanis
These are

nomadic tribes

that are spread across India.

Regarding the

origins of the Lambani community

, there are many theories, some are -

They are considered to be the

descendants of the Romanis of Europe

.

Came from the Ghor province of Afghanistan

and then settled in Rajasthan, Gujarat and then

migrated down south

.

These tribal communities of Banjara or Lambani

mainly reside

in -

Sanduru, Bellary and Bijapur in

Karnataka

, and

Hyderabad in

Andhra Pradesh.
Significance of Lambani Art
Empower marginalised communities

like Lambani

Contribution to economy

of the country.

Preserve the

rich cultural traditions

in line with the constitutional provisions.

It can also

contribute to improving biodiversity

of their region as

Indigenous fibres are required.

Native plant dyes are used. and

Locally sourced materials are preferred.

It is

sustainable practice

which works on the principle of recycle and reuse. No fabric or material is wasted in the process.

Potential to enhance India's soft power

.
Efforts for Conservation
More exhibitions

to make people interested in the art.

The artisans should be

financially supported.

There should be a

formal course to learn

this art.

More

promotion and brand engagement

would help to revive this indigenous art.

More

efforts by government

are needed to

rehabilitate and reform

GI tag will

help

in creating a unique selling proposition.

More awareness

about indigenous textiles

and fashion

will help this art to gain momentum.
Must Read Article:
GI Tag
https://www.iasgyan.in/daily-current-affairs/geographical-indication-gi-tag
https://www.iasgyan.in/daily-current-affairs/gi-tag
https://www.iasgyan.in/daily-current-affairs/geographical-indications-gi
PRACTICE QUESTION
Consider the following statements about Lambani Embroidery:
1. Sandur Lambani Embroidery of Karnataka was provided GI Tag in 2010.
2. This art can contribute to promoting and protecting the rich plant diversity of the region.
Which of the statements given above is/are correct?
A. 1 only
B. 2 only
C. Both 1 and 2
D. Neither 1 nor 2
Answer: (C)