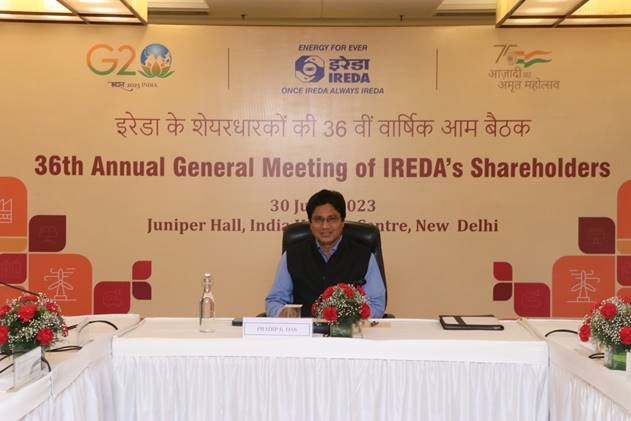 Disclaimer: Copyright infringement not intended.
Context
36th Annual General Meeting

Indian Renewable Energy Development Agency Ltd. (IREDA) was held in New Delhi at India Habitat Centre.

Annual accounts for the financial year 2022-23,

which demonstrated remarkable achievements, were adopted.
Other Details
Figures and facts related

to

progress and achievement of IRDEA

were

presented

to

shareholders by CMD

of IREDA Pradip Kumar Das.

Every parameter given below showed a

significant improvement over last fiscal year.

Details/overview

of company shared with shareholders is given below -

It achieved the highest-ever annual loan sanction amounting to ₹ 32,586.60 crore.

Loan Disbursements

showed an annual growth of 35% compared to last year which is ₹ 21,639.21 crore.

₹ 47,076 crore Loan Book

₹ 1,139.25 crore Profit Before Tax

and ₹ 63 crore Profit After Tax

₹ 5,935.17 crore Net Worth
Highlights of the Overview
It reiterated its

aim to facilitate efficient and ethical business

practices

without compromising

on the

values of corporate governance, transparency and business ethics

.

It reiterated its

commitment to maintain strong asset quality

.

Structured recovery, monitoring mechanism

,

quarterly and monthly review

helped in

improving

performance related to NPA

ratios in time bound manner.

Gross NPA - 3.21% (in FY 22 it was 5.21%)

Net NPA - 1.66% (in FY 22 it was 3.12%)
Other Initiatives
Partnerships with

green energy developers

raise awareness of new products like E

-mobility, Green Hydrogen, and Green Transmission

eggs
IREDA
It is a

Mini Ratna company of category 1, established in the year 1987 as a Non-Banking Financial Institution.

Ministry of

New and Renewable Energy has administrative control of IREDA.

Vision

of IREDA is to expand and promote sustainability and affordability in the renewable energy sector in the country.

In fiscal year 2023 IREDA published

Annual Audited results

within 25 days after the financial year ended

(against the allowed period of 60 days); hence it became the

first Central Public Sector Enterprise

to do so.

Also

within 90 days after the conclusion

of the financial year, it

holds the AGM.

It is a testimony of sound business practices and efficient management of IREDA.
Must Read Articles:
IREDA
https://www.iasgyan.in/daily-current-affairs/india-renewable-energy-development-agency-limited-ireda
https://www.iasgyan.in/daily-current-affairs/indian-renewable-energy-development-agency-ltd-ireda
https://www.iasgyan.in/daily-current-affairs/ireda
PRACTICE QUESTION
Consider the following statements about IREDA:
1. It comes under the administrative control of Ministry of Power.
2. It is a Non-Banking Financial Institution with an objective to support clean energy generation.
Which of the statements given above is/are correct?
A. 1 only
B. 2 only
C. Both 1 and 2
D. Neither 1 nor 2
Answer: (B)