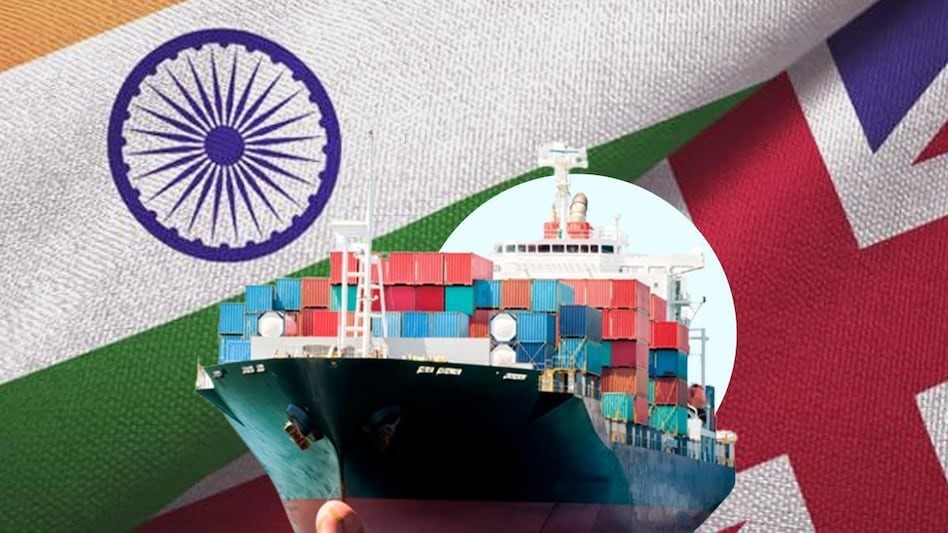 Disclaimer: Copyright infringement not intended.
Context
Recently, the twelfth round of negotiations for the UK-India Free Trade Agreement (FTA) took place.
What is a Free Trade Agreement?
Free trade agreements (FTAs) are arrangements between two or more countries or trading blocs that primarily agree to reduce or eliminate customs tariffs and nontariff barriers on substantial trade between them.
FTAs, normally cover trade in goods (such as agricultural or industrial products) or trade in services (such as banking, construction, trading, etc.). FTAs can also cover other areas such as intellectual property rights (IPRs), investment, government procurement and competition policy, etc.
How is India placed globally in terms of FTAs?
India has preferential access, economic cooperation, and Free Trade Agreements (FTA) with about 54 individual countries.
India has signed bilateral trade deals in the form of Comprehensive Economic Partnership Agreement (CEPA)/ Comprehensive Economic Cooperation Agreement (CECA)/FTA/Preferential Trade Agreements (PTAs) with some 18 groups/countries.
India is one of the top Asian countries with a maximum number of FTAs, either in operation, under negotiation, or at a proposed stage. Looking at some major trade agreements entered by India, such as the ASEAN–India FTA, India–Japan CEPA, and India–Korea CEPA, it can be noted that metal, textile, machinery, cement, agriculture, and gem and jewelry are key sectors on which tariff concessions have been made in the past," said Deloitte in a report titled ' India-UK Free Trade Agreement: The time has come.'
As a result of the trade agreements, data from the Ministry of Commerce and Industry shows that the bilateral trade between India and other SAFTA member countries increased from US$6.8 billion during 2005–06 to US$28.5 billion during 2018–19.
What is the India-UK trade all about?
Today, India is among the top two source markets for FDI in the UK.
Indian companies play a significant role in the UK's economy by creating jobs and contributing to taxes.
Despite the uncertainty over Brexit, the number of Indian firms operating in the UK increased from 800 in FY2017-18 to 850 during FY2019-20, employing over 110,793 people.
The UK is the largest European source of remittances to India.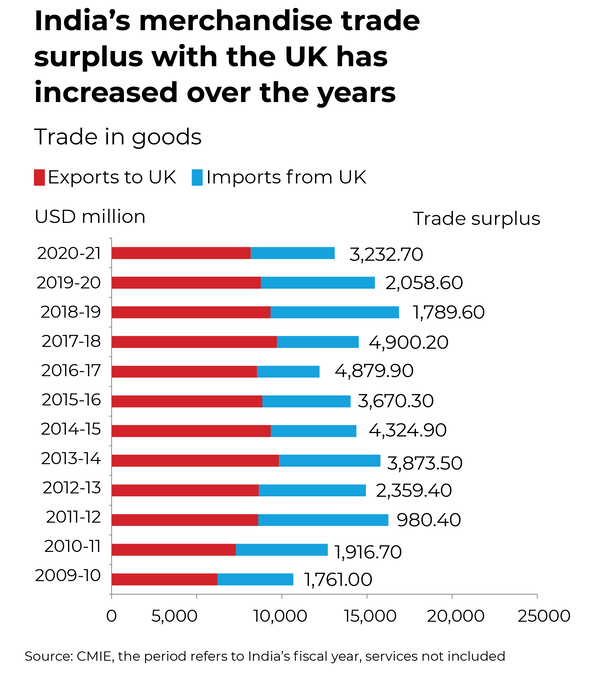 The UK is already the seventh-largest export destination for India, and India's trade and investment relationship with the UK has been successful.
Bilateral trade between the two countries (export and imports together) increased by 22.7 percent from FY2009– 2010 to US$13.1 billion in FY2020–2021.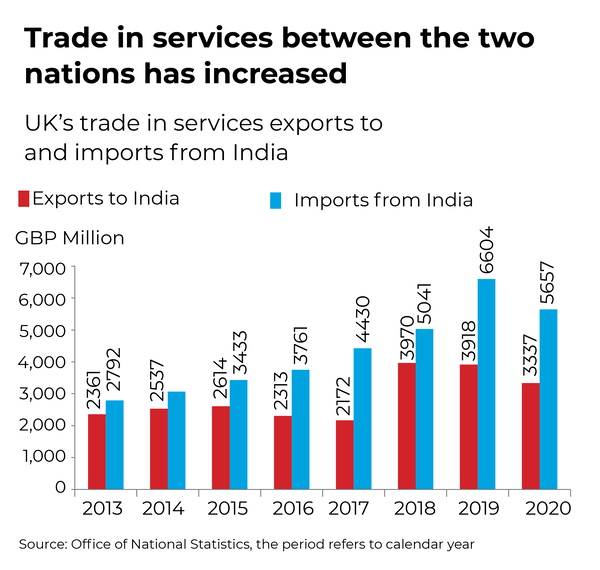 Bilateral trade between India and the UK increased to $20.36 billion in 2022-23 from $17.5 billion in 2021-22.
In the first quarter of the current fiscal, India's exports to the UK grew 21.24 per cent year-on-year to $3.3 billion and imports fell by 33.5 per cent to $1.5 billion.
This was led primarily by exports of petroleum products, refined oil, Telecom Equipment, ready-made garments, metals and electric machinery.
The top imports from the UK were iron and steel, cosmetics, alcoholic beverages and aluminium products.
India is the UK's 12th largest trading partner and accounts for 1.9% of the UK's total trade in four quarters to the end of 2022.
UK is the seventh largest export destination for India. The trade balance maintained by India with UK has largely been a surplus.
Top three services exported from India to UK are technical, trade-related and other business services, professional and management consulting services and travel.
Trade Irritants
The two sides are yet to find common ground on many major economic issues. There has been a mini 'tariff war' underway between India and the UK even as the two sides have been trying to finalize a deal.
India, on September 28, 2022, proposed a retaliatory additional duty of 15 percent on 22 imported items from the UK, including blended whiskey, Scotch, cheese, etc. as a response to restrictions imposed by the UK on 15 Indian steel products, leading to a slump in Indian exports and loss of duty collection worth the US $247.70 million.
What is the India-UK FTA?
A Free Trade Agreement between India and the UK is expected to enhance economic growth and prosperity by increasing import and export flows; increasing investment flows (both outward and inward); enhancing productivity through a more efficient allocation of resources and greater openness to international competition.
The UK is keen to gain access to Indian markets for transport equipment, electrical equipment, medical devices, chemicals, motor vehicles and parts, wines, Scotch, spirits, and some fruits and vegetables – which could impact local industry players and/or boost the manufacturing ecosystem.
India, on its part, wants to increase exports of textiles, food and beverages, pharmaceuticals, tobacco, leather and footwear, and agricultural items like rice – to the UK.
The proposed FTA
Apart from reducing tariffs, the FTA also looks at lowering non-tariff barriers, particularly technical  barriers to trade around rules of origin, investor  protection and IPR.

MoUs on joint recognition of certain educational qualifications and an outline pact on healthcare workforce have already been signed.

Also, both UK and India have set up panels for a totalization deal being advocated by India and permitting Indian legal services for the UK.
What does an FTA with the UK mean for India?
India's trade would see a quantum jump when the free trade pact is signed, from £23.3 billion through an Enhanced Trade Deal to £50 billion post-FTA.

With India set to become the world's third-largest economy by 2050, India would become the U.K.'s most preferred partner.

A trade deal between the UK and India is a huge opportunity to deepen our already strong trading relationship worth GBP 24.3 billion a year, which will benefit businesses and sectors right across both our countries.

For India, there are many benefits from access to UK technologies, advanced research and development facilities, London's financial institutions and wealthy consumers.
What does an FTA with India mean for the UK?
The government claimed the key benefits of a trade deal with India include:
Reduced barriers to trade in goods.

Increased opportunities for UK services and investment.

Supporting innovation and trade in the digital era.

More jobs for UK workers.

Creating opportunities for businesses across the UK, including small- and medium-sized enterprises.
What is India seeking from the U.K.?
Removing all trade bottlenecks.

Green Trade: India is also seeking cooperation from Britain to reduce its carbon footprint by 45%and promoting green energy.
What are the sectors that will benefit?
Agriculture: The second Green Revolution, aimed at increasing food production in India to 400 million tonnes in the next 15 years, is led by plant ecology scientist Howard Griffiths of Cambridge University under Transforming India's Green Revolution by Research and Empowerment for Sustainable food Supplies (TIGR2ESS) would strengthen alliance between Indian and British experts in social policy and science, hydrology and crop science.

Education: India would allow more U.K. universities to open their branches in the subcontinent after the FTA.
Why is this deal important?
In a post-Brexit era, the India-UK FTA would be a crucial step for the UK to reduce its dependency on the EU and establish independent trade ties outside of the EU. India on the other hand could use this opportunity to further boost the "Make in India" programmeand secure strategic deals in the sectors of defence, cyber security, R & D, and health care where the UK has predominantly been a strong player.

The FTA between India and the UK will significantly help bring down the current trade barriers and restrictionson the transfer of goods and services between the two countries and is likely to boost investments, exports and imports across sectors.

India being a tech giant and in the era of so many start-ups would enable the new/ mid-sized companies to have access to the U.K. market. On the other hand, the U.K. will have a much wider market coverage in the Indo-Pacific region. Moreover, the FTA will enhance the job-creating sectorsince India is one of the big investors in the U.K. Removal of tariffs would lead to increased competition in industries such as- automobiles and pharma.

One of the important aspects that could help India is that the UK is a permanent member of the Security Counciland strengthening bonds with the UK could be of help to India in issues such as its standoff with China. Also, it may help India become a permanent member of the Security Council considering India and UK are 5th and 6th largest economies in the world.
Final Thoughts
The trade deal will have positives for both India and the UK, but issues like market access and tariffs on products like automobiles still have to be agreed upon.
Rules of origin is another issue that has to be finalized, as it is a sticky point.
PRACTICE QUESTION
Q. In a post-Brexit era, the India-UK FTA would be a crucial step for the UK to reduce its dependency on the EU. India on the other hand could use this opportunity to further boost the "Make in India" Programme. What does an FTA with the UK mean for India? Elucidate.