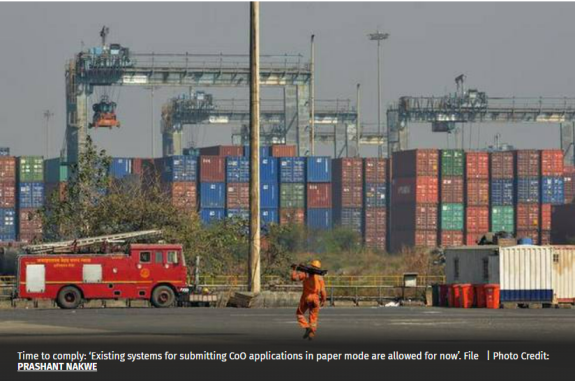 Copyright infringement is not intended
Context: Prime Minister called on industry to invest in green hydrogen production.
Recent developments:
Centre notified the green hydrogen and green ammonia policy.
Policies aim:
boosting the domestic production of green hydrogen to 5 million tonnes by 2030.
making India an export hub for the clean fuel.
Key features of new policy:
It offers 25 years of free power transmission for any new renewable energy plants set up to supply power for green hydrogen production before July 2025.
This move will make it more economical for key users of hydrogen and ammonia such as the oil refining, fertiliser and steel sectors to produce green hydrogen for their own use. These sectors currently use grey hydrogen or grey ammonia produced using natural gas or naphtha.
Government will provide a single portal for all clearances required for setting up green hydrogen production as well as a facility for producers to bank any surplus renewable energy generated with discoms for upto 30 days and use it as required.
Energy plants set up to produce green hydrogen/ammonia would be given connectivity to the grid on a priority basis.
Come under Renewable Purchase Obligation: Power distribution companies may procure renewable energy to supply green hydrogen producers but will be required to do so at a concessional rate which will only include the cost of procurement, wheeling charges and a small margin as determined by the state commission, under the new policy. Such procurement would also count towards a state's Renewable Purchase Obligation (RPO) under which it is required to procure a certain proportion of its requirements from renewable energy sources.
Export oriented: Under the policy port authorities will also provide land at applicable charges to green hydrogen and green ammonia producers to set up bunkers near ports for storage prior to export. Germany and Japan could be key markets for green hydrogen produced in India.
New mandates: The government is set to come out with mandates requiring that the oil refining, fertiliser and steel sectors procure green hydrogen and green ammonia for a certain proportion of their requirements.
About Hydrogen
There are no natural hydrogen deposits on earth, it has to be extracted from other compounds by a chemical process.
The vast majority of industrial hydrogen is currently produced from natural gas through a process known as steam methane reforming or SMR.
Producing hydrogen in this way is sometimes referred to as brown or grey or even blue hydrogen.
Types of Hydrogen:
Brown Hydrogen: most of the gas that is already widely used as an industrial chemical is either brown, if it's made through the gasification of coal or lignite
Grey Hydrogen: if it is made through steam methane reformation, which typically uses natural gas as the feedstock. Neither of these processes is exactly carbon-friendly.
Blue Hydorgen: where the gas is produced by steam methane reformation but the emissions are curtailed using carbon capture and storage.
Green Hydrogen: Green hydrogen, in contrast, could almost eliminate emissions by using renewable energy — increasingly abundant and often generated at less-than-ideal times — to power the electrolysis of water.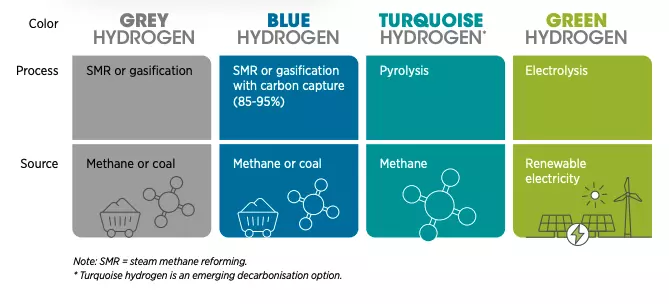 Green hydrogen current status
At present, less than 1 per cent of hydrogen produced is green hydrogen, according to IRENA's World Energy Transitions Outlook.
India consumes about six million tonnes of hydrogen every year. This could increase to 28 million tonnes by 2050.
India has favorable geographic location and abundance of sunlight and wind for the production of green hydrogen.
India will become a net exporter of green hydrogen by 2030 due to its cheap renewable energy tariffs, according to the Global Hydrogen Council.
National Hydrogen Mission:
On India's 75th Independence Day (15th August, 2021) the Prime Minister announced the National Hydrogen Mission.
Under the Mission, India is targeting to produce three-fourths of its hydrogen from renewable resources by 2050.
The Mission under the Ministry of Power, aims to support India in meeting its Sustainable climate goals.
Hydrogen is seen as the potential fuel to replace fossil fuels in future.
It will help India in increasing its renewable energy capacity.
This will help the government in achieving the target of 450 GW Renewable Energy by 2030.
Challenges in making Green Hydrogen:
Storing and transportation: H2 is a highly flammable gas, it takes up a lot of space and has a habit of making steel pipes and welds brittle and prone to failure.
High Cost:The International Energy Agency put the cost of green hydrogen at $3 to $7.50 per kilo, compared to $0.90 to $3.20 for production using steam methane reformation.
Loss of Efficiency in every process: Electrolyzer efficiencies range from around 60 percent to 80 percent.
Significance:
Achieve targets pledged under the Paris Climate Agreement i.e. to reduce the emission intensity of its economy by 33-35 per cent from 2005 levels by 2030.
Provide an alternative to fossil fuels
Provide a transition toward low emissions and work towards a clean, healthy environment.
Why India should opt for Green Hydrogen?
Adoption of Green hydrogen technologies are favorable in those sectors where direct electrification isn't feasible for ex in Heavy duty, long-range transport and long-term storage in the power sector.
With technological improvements, green hydrogen will become more affordable and accessible.
It can be used in a wide range of existing applications such as fertilisers, mobility, power, chemicals and shipping.
It can be blended up to 10 per cent by city gas distribution networksfor wider acceptance.
It is a cross-cutting solution that may reduce emissions across a range of sectors.
What can India do to build a global-scale green hydrogen industry?
India should announce ambitious national targets for green hydrogen and electrolyser capacity by 2030.
Launch an incentive programme for the production of electrolysers.
Implementing complementary solutions that create virtuous cycles for ex. building the hydrogen infrastructure for refueling, heating and generating electricity at airports.
Optimising distribution networks to decarbonise the gas grid.
https://indianexpress.com/article/business/pm-to-india-inc-invest-in-green-hydrogen-output-7801778/