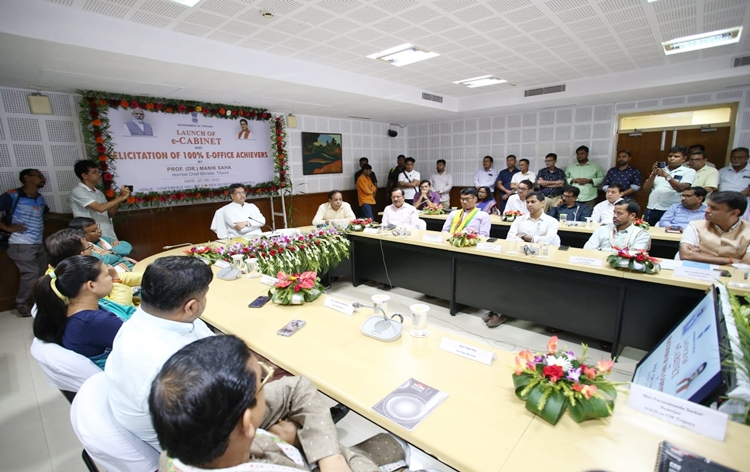 Copyright infringement not intended
Picture Courtesy: newsonair.gov.in
Context: The Chief Minister of Tripura launched an e-cabinet system to promote digital infrastructure development and the digitization of government services and information.
Key Highlights
Tripura has become the fourth state in India, and the second in the Northeast region, to introduce an e-cabinet system. This system aims to make all future cabinet meetings in the state paperless, reducing the environmental impact associated with paper usage.

Technology Adoption

: In this e-cabinet system, ministers and bureaucrats will use tablets for cabinet meetings, eliminating the need for physical paperwork.

First Meeting and Decision

:

During the debut e-cabinet meeting, the government approved a proposal to procure a loan of Rs 160 crore from the Asian Development Bank. This funding will be utilized by the Tourism and Urban Development Department for infrastructure development and sustainable livelihood generation.

Digital Governance

: Tripura has been actively implementing digital initiatives such as the e-office to ensure smoother governance. The shift to digital governance is expected to increase transparency, efficiency, and accountability.

Privacy and Security

:

The e-cabinet app is designed with features to ensure privacy and security. It allows for the uploading of cabinet memos with date and time stamps, and ministers and officials can review and approve them online.

Impact on Decision-Making

:

The e-cabinet system is expected to eliminate delays caused by the physical movement of paper documents, making the government's decision-making process more dynamic.

Digital India Initiative

: Chief Minister Saha highlighted that digitization aligns Tripura's development journey with the national Digital India initiative, which aims to transform India into a digitally empowered society and knowledge economy.

Recognition for Paperless Departments

:

The government also recognized and commended departments that have fully adopted paperless operations. Out of 94 government departments undergoing training in paperless operations, 41 received commendations.
Conclusion
The introduction of the e-cabinet system in Tripura reflects the state's commitment to embracing digital technology for more efficient governance, reduced environmental impact, and alignment with national digital initiatives.
Must Read Articles:
NATIONAL E-VIDHAN APPLICATION: https://www.iasgyan.in/daily-current-affairs/national-e-vidhan-application
PRACTICE QUESTION
Q. What are the key benefits of implementing an e-cabinet system in government offices, and how does it contribute to improving administrative efficiency and security?