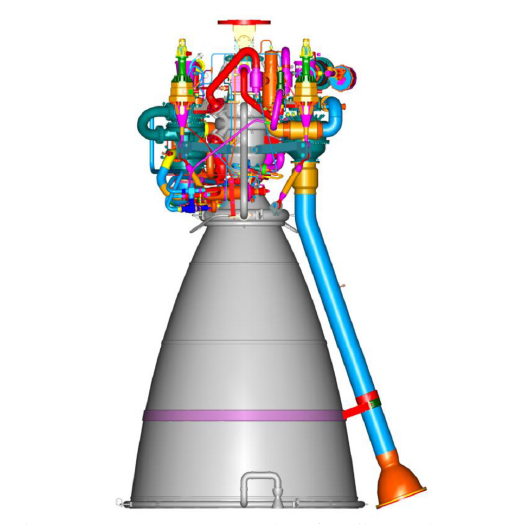 Disclaimer: Copyright infringement not intended.
Context
The Indian Space Research Organisation's Liquid Propulsion Research Centre (IPRC) in Mahendragiri has successfully tested the cryogenic rocket engine intended for use in its ambitious 'Mission Gaganyaan.'

As the ISRO is gearing up to use the CE-20 cryogenic engine in 'Mission Gaganyaan' to send humans to space in 2024 and safely bring them back to Earth after a three-day stay in a 400 km orbit, the engine is currently undergoing a range of rigorous tests.
Details
The CE-20 Cryogenic Engine
The CE-20 is a cryogenic rocket engine developed by the Liquid Propulsion Systems Centre (LPSC), a subsidiary of the Indian Space Research Organisation (ISRO).

This high-thrust cryogenic engine has been meticulously engineered to power the upper stage of the Launch Vehicle Mark-3 (LVM3), marking a significant milestone in India's space exploration endeavors.

Notably, the CE-20 stands as the first Indian cryogenic engine to incorporate a gas-generator cycle, adding to its exceptional performance credentials.
Overview
Capable of producing a nominal thrust of 200 kN, it offers an operating thrust range spanning from 180 kN to 220 kN, providing adaptability in various mission profiles.

The engine's combustion chamber effectively burns liquid hydrogen and liquid oxygen at 6 MPa with a 5.05 engine mixture ratio.

Noteworthy is the engine's thrust-to-weight ratio, measured at 34.7, coupled with a specific impulse of 442 seconds (4.33 km/s) in vacuum, attesting to its remarkable efficiency.
Thrust-to-Weight Ratio and Specific Impulse
The thrust-to-weight ratio, a dimensionless metric, serves as an indicator of an engine's or vehicle's performance.

Specific impulse (ISP), often abbreviated as Isp, quantifies the efficiency with which a reaction mass engine generates thrust, especially crucial for rocket engines.
Gas Generator Cycle
The Gas Generator Cycle, also called open cycle, is one of the most commonly used power cycles in bipropellant liquid rocket engines.

Part of the unburned propellant is burned in a gas generator (or preburner) and the resulting hot gas is used to power the propellant pumps before being exhausted overboard, and lost.

Because of this loss, this type of engine is termed open cycle.

The gas generator cycle exhaust products pass over the turbine first. Then they are expelled overboard. They can be expelled directly from the turbine, or are sometimes expelled into the nozzle (downstream from the throat) for a small gain in efficiency.

The main combustion chamber does not use these products. This explains the name of the open cycle.

The major disadvantage is that this propellant contributes little to no thrust because they are not injected into the combustion chamber.

The major advantage of the cycle is reduced engineering complexity compared to the staged combustion (closed) cycle.
The Launch Vehicle Mark-3 (LVM3)
LVM3, a three-stage medium-lift launch vehicle developed by ISRO, plays a pivotal role in India's space missions.

Its primary mission objective is to launch communication satellites into geostationary orbit, with a payload capacity surpassing its predecessor, GSLV.

Total development cost for the LVM3 project amounted to ₹2,962.78 crore in 2023, reflecting the substantial investment in advancing India's launch capabilities.

LVM3's multifaceted missions include launching CARE, India's space capsule recovery experiment module, and missions such as Chandrayaan-2, Chandrayaan-3, and the momentous Gaganyaan, marking India's first crewed mission under the Indian Human Spaceflight Programme.
The Liquid Propulsion Systems Centre (LPSC)
LPSC, functioning under the Indian Space Research Organisation (ISRO) since 1985, serves as a key research and development center.

It operates from two units located at Valiamala, in Thiruvananthapuram (Kerala), and Bengaluru (Karnataka).

LPSC is at the forefront of developing liquid and cryogenic propulsion stages for launch vehicles and auxiliary propulsion systems for both launch vehicles and satellites.

LPSC has played a vital role in various aspects of India's space endeavors, including the development of liquid propellant stages for PSLV, control systems for SLV-3, ASLV, PSLV, and GSLV.

One of LPSC's notable achievements is the successful development of an indigenous cryogenic upper stage for the Geosynchronous Satellite Launch Vehicle (GSLV), successfully test-fired by ISRO on August 4, 2007.
Conclusion
In the grand saga of India's space exploration journey, the successful development and testing of the CE-20 cryogenic rocket engine stand as a testament to the nation's technological prowess. As ISRO embarks on its 'Mission Gaganyaan,' the CE-20 engine, with its groundbreaking gas-generator cycle, is set to propel India's aspirations into the cosmos.
MUST READ ARTICLES:
https://www.iasgyan.in/blogs/cryogenic-engine
PRACTICE QUESTION
Q. Discuss the significance of the CE-20 cryogenic rocket engine, its technical specifications, and the role it plays in India's space program, with a focus on 'Mission Gaganyaan.' (250 Words)
https://www.thehindu.com/news/cities/Madurai/ce-20-cryogenic-rocket-engine-tested-successfully/article67252443.ece