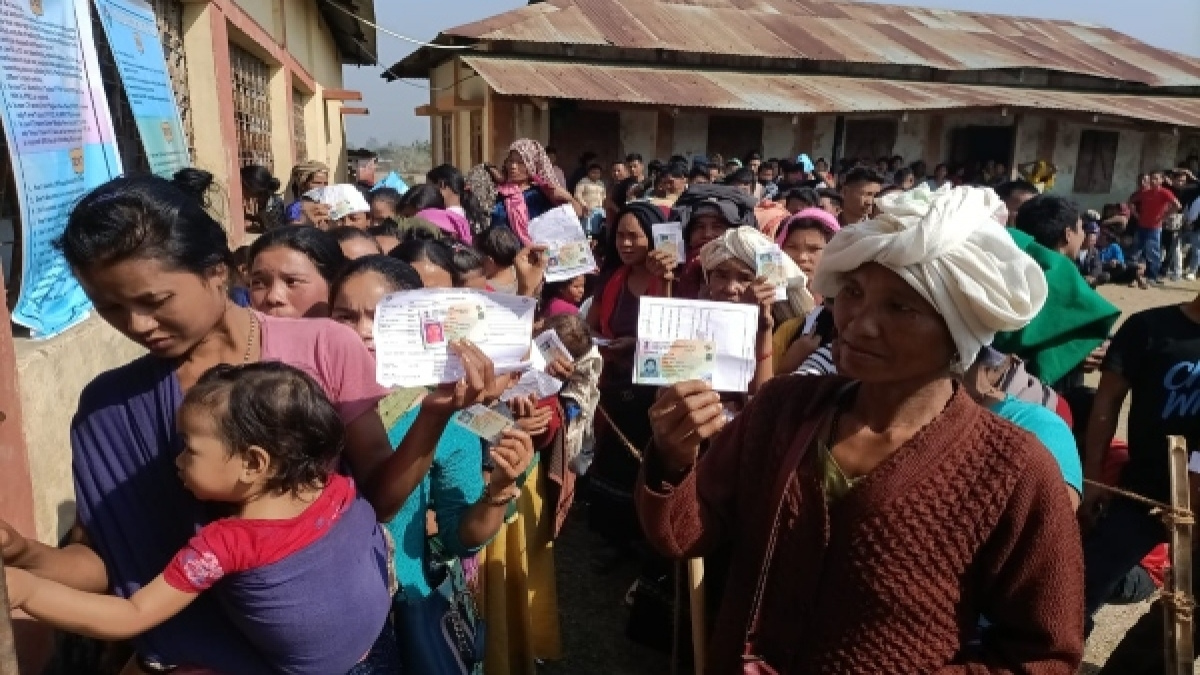 Copyright infringement not intended
Picture Courtesy: www.oneindia.com
Context: Bru refugees, permanently settled in Tripura, will not participate in the Mizoram Assembly election, signifying their exclusion from the state's electoral process for the first time.
Bru Refugees
The Bru or Reang are an ethnic group living in the northeastern states

of India, mainly in Tripura, Mizoram and Assam.

They have been facing displacement and persecution for decades due to ethnic conflicts, land disputes and religious violence.

In 1997, more than 40,000 Bru fled from Mizoram to Tripura after a series of attacks by Mizo militants

. They have been living in makeshift camps ever since, with little access to basic amenities, education, health care and livelihood opportunities.

The Bru refugees have been demanding a permanent settlement in Tripura, where they feel more secure and culturally connected. However, the Tripura government has been reluctant to accept them as permanent residents, citing the lack of land and resources.
The Mizoram government has also been pressuring them to return to their original villages, promising security and rehabilitation. However, many Bru are sceptical of these assurances and fear further violence and discrimination if they go back.
Rehabilitation and Settlement
In January 2020, a quadripartite agreement was signed between the Central government, the governments of Tripura and Mizoram, and Bru refugee representatives

. The agreement aimed to permanently settle the Bru refugees.

Under the agreement, 14,000 Bru refugees were given permanent settlements in Tripura

. They were relocated to 12 identified places in Tripura, facilitated by a financial package of ₹661 crore from the Central government.

The process of settling the Bru refugees in these designated areas was still underway at the time of the election. This process was expected to take a few more months to complete.
Current Status
The quadripartite agreement outlined various conditions, including the provision of free ration, financial allowances, and essential commodities. These conditions were regularly fulfilled under the supervision of designated government officials.

Although a significant number of Bru refugees had been settled in Tripura, some members of the Bru tribe continued to live in Mizoram, especially in the Mamit district, which had experienced ethnic strife in 1997.
Challenges in addressing the Bru refugee crisis
The Bru refugees left Mizoram due to ethnic tensions, which continue to simmer. This makes their return challenging, as their safety and security need to be ensured. Rebuilding trust between the displaced Bru community and the Mizoram government is crucial for successful repatriation.

Integrating the Bru people into a new environment, with potentially different customs

, languages, and traditions, can be challenging and may lead to a sense of cultural displacement. Providing livelihood opportunities and economic support to help them become self-sufficient is essential for their long-term integration.

The Bru people may struggle to maintain their cultural identity and heritage while adapting to a new environment. Returning to their ancestral land can be complicated due to land disputes and encroachments during their absence.
Way Forward
Engage in dialogue and negotiations to address the root causes of ethnic tensions

. Mediation and reconciliation efforts may be necessary to build trust and promote peaceful coexistence.

Establish schools and educational programs

to ensure that Bru children receive quality education and are prepared for a more secure future.

Provide access to healthcare services

, particularly focusing on addressing the health needs of refugees who may have been living in challenging conditions for an extended period.

Create vocational training and employment opportunities

to enable self-sufficiency and economic stability.

Seek financial support from international organizations and NGOs to provide resources for refugee rehabilitation, infrastructure development, and social services

Engage the displaced Bru community

, host communities, and the Mizoram government in dialogue to ensure their voices are heard, build trust, and find mutually agreeable solutions.

Establish dispute resolution mechanisms

to address grievances and misunderstandings between different communities.

Ensure that the Bru people are legally recognized

, either as Indian citizens or residents, to secure their rights, access to services, and the ability to own land and property.

Resolve land disputes

and secure the rights of the Bru people to their ancestral lands.
Conclusion
A sustainable solution to the Bru refugee crisis will require a long-term commitment to peacebuilding, integration, and the protection of their cultural identity. It will also necessitate cooperation at the local, national, and international levels to provide the necessary resources and expertise to support the affected population and facilitate their return and integration.
Must Read Articles:
Internally Displaced People: https://www.iasgyan.in/daily-current-affairs/internally-displaced-people
PRACTICE QUESTION
Q. What are the key challenges faced in resolving the Bru refugee crisis, and what sustainable solutions can be implemented to ensure the successful repatriation, rehabilitation, and integration of the displaced Bru community?